August 1, 2019
Our Sola Apartment Building renovation of a Victorian Row House in Dupont Circle was recently featured in the Washingtonian Magazine in the article "Scandinavian Sensibility in DuPont Circle".  It's a great profile of an amazing roof deck!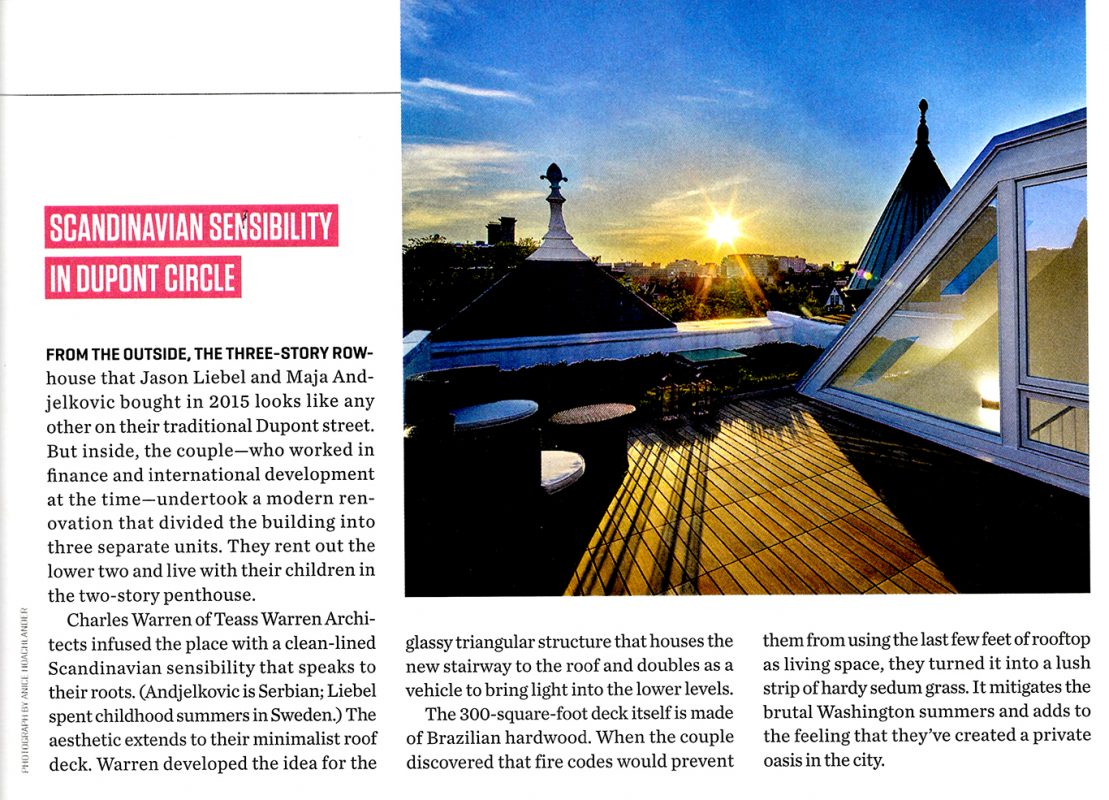 From the outside, the three-story row house that Jason Liebel and Maja Andjelkovic bought in 2015 looks like any other on their traditional Dupont street. But inside, the couple – who worked in finance and international development at the time – undertook a modern renovation that divided the building into three separate units. They rent out the lower two and live with their children in the two-story penthouse.
Charles Warren of Teass Warren Architects infused the place with a clean-lined Scandinavian sensibility that speaks to their roots. (Andjelkovic is Serbian; Liebel spent childhood summers in Sweden.) The aesthetic extends to their minimalist roof deck. Warren developed the idea for the glassy triangular structure that houses the new stairway to the roof and doubles as a vehicle to bring light into the lower levels.
The 300-square-foot deck itself is 1nade of Brazilian hardwood. When the couple discovered that fire codes would prevent them from using the last few feet of rooftop as living space, they turned it into a lush strip of hardy sedum grass. It mitigates the brutal Washington summers and adds to the feeling that they've created a private oasis in the city.