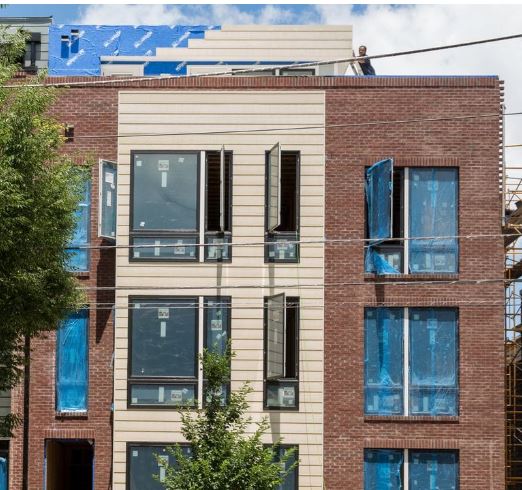 Three adjacent low-rise condominium buildings on Harrison Street NW, between 44th Street and Wisconsin Avenue, are an unusual sight in the District's Friendship Heights neighborhood.
Close-by homes are mostly decades-old single-family dwellings, though there are two-story red brick garden apartments on both sides of the condominium buildings, 4335, 4339 and 4343 Harrison.
One of the condo buildings, 4335, is under construction, and sales of its eight units will begin in August, according to the developer, ERB Properties. The units are expected to be ready for occupancy in the fall. ERB also built 4339, whose seven units have been sold. (The condos at 4343, built several years ago by a different developer, have also been sold.)
"You can put a condo building on this block that's the same size and has the same finishes as the condos we're building downtown, said Matt Scorzafava, vice president with ERB Properties. "That makes it very attractive."
Charles Warren, principal of design at Teass\Warren Architects, said 4339 and 4335, with their brick exteriors and relatively large, contemporary windows, were designed "to give them a more modern look but one that still felt like it belonged."
On the inside, 4335 will be similar to 4339. The two-bedroom, one-bathroom unit 3 in 4339 has an open floor plan with the contiguous kitchen, living area and dining area flanked by two bedrooms and a private courtyard. The spacious courtyard is furnished with a couch, a table and a carpet. One side of the courtyard is next to a courtyard belonging to a neighboring unit. In 4335, two penthouses will each have a private roof deck.
The kitchen is installed along one wall. The backsplash is white subway tile. The cabinet doors and drawers are "soft-close," which means "you don't have to worry if you slam them shut. They won't make any noise," said Ryan Isaacson, an agent with Trent & Co., a Compass Real Estate team. Trent & Co. is handling sales at 4335 Harrison.
On one side of the unit's entrance is a double closet, with utilities and stacked washer and dryer, and the door to the smaller of the two bedrooms. The bedroom has a window facing the courtyard. This unit's one bathroom is next to the courtyard, and the larger bedroom is next to the bathroom.
Pete Kossiaras, his wife, Carrie Wilson, and their daughter, Eleni, who'll be 2 in September, have lived at 4343 Harrison since January 2017.
The location, Kossiaras said, is perfect for them. "I work [near] the Friendship Heights Metro station, and my wife works in Dupont Circle, so it's super convenient," he said. "Plus, our daycare is across the street. On the way to work, I drop Eleni off, and on the way home, I pick her up. Those are the best parts of my day."
Read the rest of the story at The Washington Post.